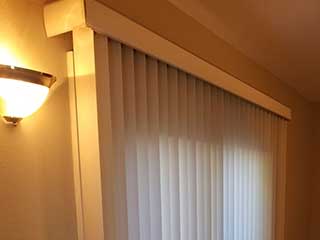 Many common types of blinds you see have horizontal vanes. That is very often the classic way of building them. You can find many types of window covers sporting this type of vane structure, made from everything between real wood to faux, vinyl, PVC and various other materials. So why get vertical blinds installed in your Oakland home or business? If most window treatments flaunt horizontal vanes, why go with a vertical build? Well, the answer to that question is directly below.
Why Choose Vertical Blinds?
The reason vertical blinds exist even though the horizontal vane structure of the classic type is specific use. You see, vertical blinds are often used for window walls, sliding glass doors, and various other large surface areas. The horizontal vane structure becomes a hindrance when dealing with windows of over a certain size. The vanes become too long and not easily adjustable. With vertical blinds, however, the length of each vane remains optimal, even with very huge office window walls. The vanes don't bend down in the middle section and don't ruin the aesthetics. Serving as the best choice for sliding glass patio doors, vertical blinds create a great way to darken or brighten a room in seconds.
Types of Vertical Blinds
Same as with their horizontal counterparts, vertical blinds offer you plenty of choices. You can choose from a wealth of colors and designs, but also different materials. Faux wood vertical blinds are very popular for achieving an elegant wood imitation décor. You could accomplish the same with real wood, but that would require more maintenance. With vinyl or aluminum vertical blinds (which you find in many bay area office spaces) you can also create an unassuming look that gives the room a functional way of controlling sunlight.
Blackout Vertical Window Treatments
The option to have the blinds completely darken the room when closed is very popular. With blackout vertical blinds, you can create this effect, ensuring no sunlight streams inside. The vanes have an overlapping build, designed to prevent slits of light between them. The blackout vertical blinds extend slightly past the windowpane. That way, they ensure no sunlight gets through the sides, the bottom, or the top. The blackout feature of custom made-to-measure vertical window treatments enhances their utility significantly. If your Oakland area home has large bedroom windows, blackout vertical blinds can suit it very well. The same goes for office spaces with window walls that require privacy. Blackout blinds, vertical or otherwise, make for a great, cheap way to add private areas to any home or business.
Oakland Source For Motorized Vertical Blinds
The team here at Bay Area Motorized Blinds provides every nearby bay area customer complete customization over their new window treatments. We let you choose the design and colors, as well as the materials. Of course, we advise each customer based on their needs to ensure they choose the best combination of aspects for their home or business. Motorized vertical blinds have a long list of benefits, offering remote control via Wi-Fi or Bluetooth. You can connect to them with a smartphone and adjust the vanes or raise/lower the whole setup. Want to have them do it automatically? Electric motorized vertical blinds with sensors for brightness or temperature can self-correct throughout the day without you even having to think about it. To find out more, meet with one of our experts for a free estimate and consultation.