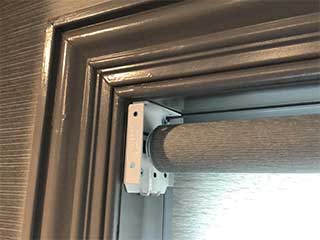 One of the most attractive aspects of motorized window treatments is their versatility. From faux wood blinds to Roman shades, you can choose practically any type of covering to connect with motors and remote controls. Bay Area Motorized Blinds manufactures and installs motorized roller shades, window blinds, and many other types of treatments for windows and doors. We do all the manufacturing right here in the US, then send our local blinds installers to set everything up. You get to choose the design, materials, remote control connectivity and any other aspect of your new custom motorized blinds (or shades). With the customer having complete control over customization, our custom made shading solutions can suit any need or budget.
Blinds With Wi-Fi Remote Connectivity
The classic, old-fashioned style of motorized blinds had remote control handsets it responded to. That or wired wall-switches. Those forced you to be in the room, or close enough for the range of the remote control of the blinds to work. However, with Wi-Fi connected wireless motorized blinds, you don't need to do that anymore. Your smartphone can connect to the Wi-Fi and control the blinds remotely. Meaning you don't need to even set foot inside the room in question to open or close the electric blinds. As the leading Oakland motorized blinds installers in the area, we love advising customers and helping them choose the best features for their home or business.
Battery-powered Motorized Blinds
Again, the old style of doing things had installers connect the motorized blinds directly to the main electrical network via wires. However, now with battery-powered motorized blinds, you can have the system operate independently. If the main power goes out during a blackout, your electric blinds will continue to work due to their battery power source.
Blackout or Sheer Motorized Roller Shades
One of the most popular automatic shading products Oakland residents get from us are motorized roller shades. The variety of designs and range of opacity options makes roller shades with motors a great solution for a lot of different rooms. Blackout roller shades, motorized and connected to your home Wi-Fi, can make for a great addition for bedrooms. With the right set of motorized sheer roller shades, you can eliminate sunlight glare in office spaces with computer screens. This leads to a much more hospitable and comfortable work environment, making employees more productive. Each room has at least one type of window shading that can suit it. And the Bay Area Motorized Blinds specialists are here to help you figure out which one works for you.
Local Oakland Motorized Blinds Installers
Anyone around this part of the bay area can turn to us for a free estimate on custom made motorized blinds or shades. Bay Area Motorized Blinds builds every set made-to-measure for each window in question. Thus we can ensure complete coverage from all fronts. Pick the type of design and texture that best goes with your interior décor, as well as special motorized blinds features you like, such as Wi-Fi, Bluetooth, self-adjustment sensors, and more. Call to set up a free consultation at any home or office in the Oakland area or nearby.