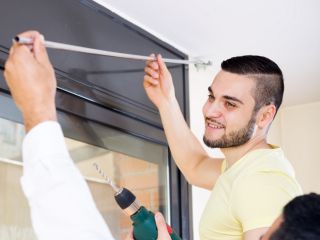 Are you in search of the finest window treatment services in the Bay Area, particularly in Oakland and its neighboring communities? Look no further than Bay Area Motorized Blinds. We take pride in being the go-to experts for all your window treatment needs, from installation and repairs to free consultations.
Why Choose Us?
Professional Excellence: Our team of skilled professionals is dedicated to providing top-tier service. With years of experience, we have honed our expertise to handle every aspect of window treatment installation and repair.
Fair and Transparent Pricing: We believe in honesty and transparency in our pricing. Our rates are competitive, ensuring you get the best value for your investment.
Punctuality Guaranteed: We understand the importance of your time. When you schedule a service with us, you can rely on our punctuality and commitment to on-time arrivals.
Our Services
Window Treatment Installation and Repair:
At Bay Area Motorized Blinds, we offer a comprehensive range of window treatment services, including:
Plantation Shutters: Experience the elegance and functionality of plantation shutters tailored to your space.
Blinds and Curtains: Choose from our wide selection of custom blinds and curtains to match your style and needs.
Motorized Window Shades: Enjoy the convenience of motorized roller shades that enhance your space with ease.
Wooden Window Blinds: Add warmth and sophistication to your surroundings with our wooden blinds and shades.
Honeycomb and Woven Wood Shades: Explore our stylish and energy-efficient honeycomb and woven wood shades.
Faux Wood Blinds: Achieve the classic look of real wood with durable faux wood blinds.
Vertical and Mini Blinds: Discover versatile and space-saving solutions with our vertical and mini blinds.
Free Consultation
Not sure which window treatments are best for your space? Our experts offer free consultations, guiding you through the process and providing valuable insights to help you choose wisely. Whether it's a commercial or residential space, we have the ideal window treatment solutions for you.
Service Areas
While our expertise is rooted in Oakland, we proudly serve the entire Bay Area. If you're searching for "window treatment installers near me" or "window treatments near me," you've found the right team to transform your space with exceptional window treatments.
Elevate your home or business with our premium window treatments. Contact Bay Area Motorized Blinds today to schedule a consultation. We're committed to making your space more beautiful, functional, and comfortable.
Bay Area Motorized Blinds - Your Premier Window Treatment Specialists in Oakland!