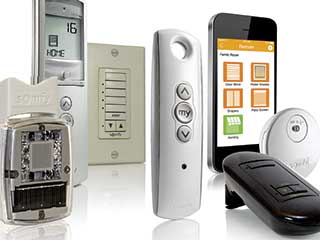 These days, most people looking for window treatments prefer to get motorized blinds or shades. For one thing, cordless blinds lack the child safety issues that the old-fashioned hand-drawn kind had. Another benefit of motorized blinds is their reliability. With Somfy's smart technology, you can program your blinds and shades to adjust themselves to the hour and weather. No input from you is required to watch the indoor temperature and protect the wallpaper and furniture! Free estimates for custom-made Somfy blinds, shades, and shutters are on offer all over Bay Area and nearby.
Smart Motorized Blinds & Shades
Window treatments can look like almost anything, from thick wood blinds to gauzy roller shades. Our Bay Area motorized blinds installation services include custom design and modification for each order, as well as setup, of course. During your free consultation, we can help you pick out exactly what style of motorized blinds or shades would work best for a given window. With the amount of diversity Somfy puts out, you have a lot to choose from!
When To Choose Rolling Shutters
If you want maximum protectiveness and durability, shutters are the most secure window treatments you can get. Like all Somfy products, motorized rolling shutters can work with wall consoles, remote control handsets, or wireless internet. Which control system you should choose depends on how you weigh convenience against security. Larger windows in particular make good places for motorized rolling shutters, especially those on storefronts.
Outdoor Somfy Shading Solutions
Decks, porches, and swimming pools need shading even more than windows do. Furniture and indoor climate need protection from the weather, but not as much as your skin does! Motorized awnings, pergola canopies, and patio shades do the important job of letting you enjoy the sun without baking in it. If you opt for heavier waterproof materials, they can also let you sit outside comfortably during rain. Just like window blinds, Somfy outdoor shades use onboard batteries to keep them safe from the climate and independent of power cords or wires.
The Best Motorized Somfy Blinds Solutions In Bay Area
Call today and make an appointment, and you'll get a professional eye to give design and decoration advice as well as price quotes. Indoor window blinds and exterior shades from Somfy are all compatible with home networks and personal assistant apps, or you can have them atomized and remote-controlled! Choose the best new smart blinds for your Bay Area residence or commercial space and customize features and design with help from our pros. Get in touch to book a free estimate in person to get started.