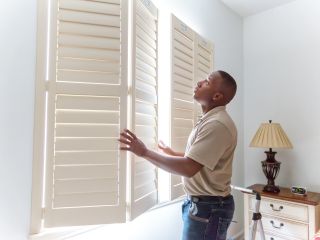 Welcome to Bay Area Motorized Blinds, your trusted partner for elevating the aesthetics and functionality of your windows. We are Oakland's premier destination for premium plantation shutters and state-of-the-art motorization solutions, featuring industry leaders Somfy and Lutron. Whether you're looking to enhance your residential or commercial space, indoors or outdoors, we have the perfect window treatment solution for you.
Plantation Shutters: Timeless Elegance Meets Modern Comfort
Why Choose Plantation Shutters?
Plantation shutters are a timeless window treatment that adds a touch of elegance to any space. Unlike traditional blinds or curtains, plantation shutters offer a multitude of benefits that set them apart.
Benefits of Plantation Shutters:
Light Control: Enjoy precise control over natural light, allowing you to create the perfect ambiance in your space.
Privacy: Maintain your privacy while still enjoying a view with adjustable louvers.
Energy Efficiency: Reduce energy bills by insulating your space, keeping it cool in summer and warm in winter.
Durability: Our custom-made plantation shutters are built to last, ensuring a long-term investment in your home or business.
Aesthetic Appeal: Plantation shutters add a touch of sophistication and can be customized to match your interior decor seamlessly.
Easy Maintenance: Keep your shutters looking pristine with minimal effort.
Versatility: Suitable for any room, plantation shutters are perfect for both residential and commercial settings.
Motorization: Smart, Convenient, and Stylish
At Bay Area Motorized Blinds, we take window treatments to the next level with Somfy and Lutron automation solutions. Experience the future of convenience with:
Remote Control: Adjust your shutters with the touch of a button.
Scheduling: Set your shutters to open and close at specific times for added security and energy efficiency.
Voice Activation: Control your window treatments with voice commands for a truly smart home.
Our Comprehensive Services:
Free Consultation: Our experts will guide you in choosing the perfect plantation shutters or window treatments that fit your unique space and style.
Installation: Our skilled professionals will install your shutters with precision, ensuring they look and function flawlessly.
Repair Services: In case of any issues, we offer prompt and reliable repair services to keep your shutters in top condition.
Choosing Wisely: Your Window Treatment Experts
Not sure which window treatment is right for you? We're here to help. Our team will provide you with expert advice and window treatment ideas to help you make an informed decision. We understand that each space is unique, and we're committed to tailoring our solutions to your needs.
Visit our showroom in Oakland or schedule a consultation, and let us transform your space with the timeless elegance of plantation shutters and the convenience of automation. We have the finest selection of quality blinds and shutters, ensuring your satisfaction.