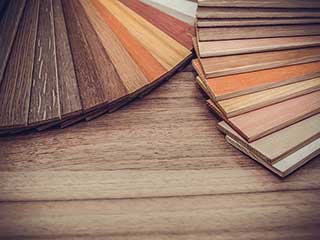 You deserve to get the best of both beauty and simplicity with your window treatments. While wood blinds have been around for a long time, and are a refined addition to any home, they aren't without their drawbacks. Faux wood blinds achieve the same look, all while negating these potential problems. Bay Area Motorized Blinds is here to explain the differences and more by providing a free estimate.
Problems with Real Wood Window Coverings?
There's no arguing that real timber window treatments are a naturally lovely addition to the household, but those pros aren't without cons. If you live in an area with heavy humidity or any humidity for that matter, your wood blinds will be at risk for molding, swelling, and other types of damage. To prevent this and keep the wood safe, repeated moisture protection applications are required. Cleaning isn't simple with real timber either, certain cleaners and care is necessary to avoid harm. All of this trouble on top of the high cost can be too much, but that's where waterproof faux wood blinds make a great choice! They're cheaper and don't have any vulnerability to moisture, period.
Custom Faux Wood Window Blinds
If you're going to get new faux wood blinds for your home, they should be high-quality to last for a long time! That's where our professionals come in. We offer the finest faux wood window coverings around, and free consultations to help you pick out the perfect style for your home. There are various materials to choose, such as PVC and vinyl, but no matter what they will be far less heavy and more flexible than real wood is. You also get to decide which imitation wood shading looks best in the area! With assistance from our team, your faux wood treatments will enhance the look of any room, and inspire a fresh new appearance in no time.
Faux Wood Blinds Great For Oakland Kitchens
While real wood window coverings give kitchens a welcoming, elegant atmosphere, they are also unfortunately in danger there. Their susceptibility to damage from moisture makes steam, splattered liquids, and even food splashes a threat that may permanently damage them. However, we can help with our waterproof faux wood blinds! They'll have no trouble standing up to whatever gets thrown at them, and you can clean them off without any issue as well.
Custom Blinds With a Free Quote
Want to add new faux wood blinds to your home or office windows in the Oakland area? We're happy to sit down at your residence or business for a free consultation and estimate. This ensures you'll be completely satisfied with the end product, as you'll know exactly what you're getting and will choose the features you want! Another benefit Bay Area Motorized Blinds offers is that we will custom make your faux wood blinds according to your windows. That means leaving no gaps or slits open between the windowpane and blinds through which sunlight can stream through. You decide how much light gets inside, if at all. Call to schedule an appointment any day of the week.