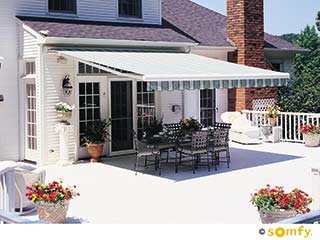 Harsh sunlight and UV rays present a real threat and can cause serious damage to our skins and our health in general when continuously exposed to without protection. Patio covers enable us to enjoy spending time in outdoor spaces without worrying about direct sunlight scorching or blinding us. Motorized patio covers installed in your Oakland backyard or front area give you the outdoor lounge space you want with easily controlled shade solutions. With a variety of available options ranging from pergola screens to awnings and other canopies, you can always find something to meet your needs.
Awnings Improve Patio Utility & Aesthetic
Adding motorized awnings to your patio or deck area gives you tremendous benefits. First of all, they look great. Awnings can add to the exterior design and can sport different styles to enhance the outdoor look you're going for. In addition, awnings expand the shaded area of your Oakland patio, offering protection even at lower angles.
Motorized Pergola Canopies & Rolling Screens
With outdoor shade structures, it's important to choose the right covers for your needs. Pergola screens improve the ability of such structures to increase privacy and offer better protection from harmful UV rays and harsh sunlight. Motorized pergola canopies let you change up their covering status with a remote control press or a smartphone connection, making them ideal for adding shade during the hotter times of the day and retracting the canopy or pergola screens when it's cooler.
Oakland Motorized Patio Covers Custom Made
Advice, guidance, and free estimates are waiting for you to call and book an appointment. Find out more about different available custom patio covers you can pick and let our experts help you choose features, designs, and materials that will suit exactly what you're looking for. Get the best deal on patio cover installation in the Oakland area from local professionals with over a decade of experience. Call to schedule a free quote appointment today to learn more!