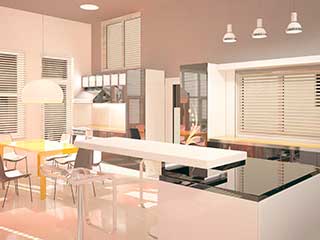 The right set of window treatments goes a long way in creating the look you want for your interior décor. So let our Oakland Venetian blinds specialists help make the decision easy for you! We have years of experience with a huge variety of treatments, so you can rest assured that we'll assist you to find what works best for your needs. Venetian blinds complement small and mid-sized windows. You've likely seen them countless times thanks to their popularity. Learn more about what Venetian blinds options you can pick from and what sorts of special features work best for you.
Room Darkening Blackout Venetian Blinds
If you want to be able to close out all light from outside, no matter what time of day it is, Blackout Venetian blinds are what you're looking for! This style of window treatments is made for that exact purpose. Our Oakland blinds professionals custom make each set to assure no cracks around the outside let in light either. Blackout Venetian blinds are perfect for bedrooms and nurseries to help your baby sleep without interruption. They also work great in living rooms to get a movie theater experience on your very own couch! They're fantastic for privacy, as they keep out unwanted gazes as well.
Oakland's Best Metal and Wood Venetian Blinds
We provide a variety of materials for your new Venetian blinds to suit them to your various needs! For those wanting the most affordable option, metal or aluminum Venetian coverings are best. Metal isn't the most aesthetically pleasing, but it gets the job done. Aluminum is also sturdy, giving you the most bang for your buck. On the opposite end of the scale, for those who want to create a beautiful look in their home, there are wood Venetian blinds. We even have faux wood Venetian blinds to achieve the same gorgeous style for a cheaper price, and less maintenance.
Motorized Venetian Blinds for Ease and Comfort
Life is busy enough as it is, so why deal with treatments you have to manually adjust any longer? With motorized Venetian blinds, you won't have to fuss with strings or struggle to get them hanging right. You can use a smart device and app to open or close them, or get wall sensors that will take care of things for you! Your new motorized Venetian blinds can automatically shift their vanes according to how much or little light you want to get in. This will help to regulate your Oakland home's temperature and lower energy spending too!
Venetian Blinds and More for Oakland Windows
It's time to give your local home or business the new look you've been wanting! It's easy and affordable to upgrade to the newest and best Venetian blinds in Oakland, all made according to the measurements of your specific windows. Curious about a different type of window treatment? Contact Bay Area Motorized Blinds to have a local specialist provide a free consultation and go over all the options with you. Things will look fresh before you know it with your brand-new Venetian window treatments! Call to schedule a free estimate appointment anytime, 7-days a week.