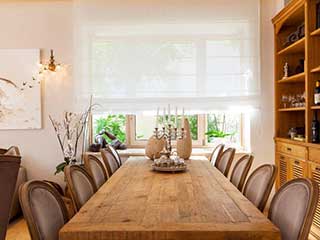 Many people decide to choose Roman shades for their windows because of the famous elegance these coverings provide. Many window shades can block or diffuse sunlight in different ways. But when it comes to stylish covering options, Roman shades offer probably the most sought after décor enhancement options. We here at Bay Area Motorized Blinds know how much people love the many styles of Roman coverings. And we're happy to help every Bay Area home or business owner find the perfect custom Roman shades for their specific taste and budget.
Sheer Roman Window Covers
When choosing new covers for your Oakland home or office windows, you need to pick a level of opacity that fits your needs. Too transparent fabrics will result in sunlight glare and harmful UV rays streaming inside. However, with sheer Roman shades, you can diffuse sunlight and soften it, while still utilizing this natural light source to save money, and create a warm and pleasant indoor environment. The use of sheer material softens sunlight but still filters most of the harmful UV rays. The level of sheer opacity can vary in percentage from single digits to double. So finding a material that makes your sheer Roman shades perfect for creating a pleasant indoor atmosphere won't take a lot of time.
Most Affordable Blackout Roman Shades in Oakland
On the other side of the spectrum, you have Roman-style coverings that utilize blackout fabrics. These options let you completely block sunlight from entering the room (when fully drawn). This suits people for different reasons. If you're adding blackout Roman shades to a bedroom, then you can thus ensure a better night's sleep and privacy. Blackout Roman window shades let you darken the room completely, making them perfect for living rooms and dens where people often watch TV. Our range of custom blackout Roman shades can offer you excellent shading solutions at the best price range near the Oakland area. With expert advice from our Roman shade specialists, you'll have a good time customizing your new covering options.
Motorized Roman Shades With Remote Control
While the styles that Roman window coverings offer are their main attraction point, motorization still offers you a lot of choices. When you choose motorized Roman shades, you can benefit from automation via Wi-Fi and Bluetooth remotes. With modern technology, that also means you can use your phone to control your smart Roman shades from anywhere in your Oakland property. Or even much farther away in the Bay Area! Motorization allows us to effortlessly change the position of the shades throughout the day. That can optimize your use of sunlight, making for an efficient way to save money on energy.
Custom Roman Window Covering Styles & Sizes
The main reason why so many bay area homes and businesses flaunt Roman shades is the varied style options. Everybody wants their interior décor to look unique and attractive, and this variety makes it easy to do that. You've got anything from fishtail to classically pleated to relaxed Roman shades or even flat covers. Choosing the right style for your home or business can prove easy. All you need to do is get a free estimate and consultation from one of the Bay Area Motorized Blinds experts. Call anytime to book an appointment!